introduction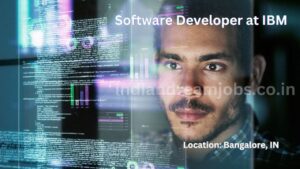 Software Developer at IBM: Working at IBM is a dream more than just a job. It's a calling: creating projects for customers, creating codes, consulting, thinking like customers, and selling products. Finding new markets, not just to do something better, but to try to do what sometimes seems impossible. ready to lead in this age of technology and solve all the world's most challenging problems?
Roles and Responsibilities:
Software Developer at IBM Your Role :
01] A cloud developer plays an important role in the IBM automation organization.
02] As a developer for Cloud Pak System [CPS], I am responsible for the development and support of CPS to solve complex problems and provide a good interface to the product management team and end users. You may also be responsible for tracking the work of fellow team members and providing technical direction to them.
Software Developer at IBM Your Responsibility:
01] Delivering an industry-leading user experience for IBM's customers. Also as a member of a strong team creating a world-class deployment environment.
02] Attending daily Project Meetings and Team Scrums. Contribute significantly to the development and architecture of automated solutions
Software Developer at IBM Essential Skills for Success:
To excel in this role, a solid foundation in different technical and professional skills is essential.
Navigating Networking:
Routing and Switching: A deep understanding of routing and switching principles forms the cornerstone of your expertise. This includes concepts like VLANs, private VLANs, and link aggregation, which collectively create the backbone of robust network architecture.
Troubleshooting Mastery: Your ability to troubleshoot network issues, whether they're related to switches, layer 2, or layer 3, will be a decisive factor in maintaining the health of the network. The capacity to quickly identify and address problems ensures seamless operations.
TCP/IP Communication: Grasping the nuances of TCP/IP communication is pivotal. This knowledge fuels the seamless transmission of data across networks, facilitating efficient and reliable communication.
Keeping Up with Upgrades: Proficiency in switch upgrades demonstrates your commitment to staying up-to-date with evolving technology.
MLAG/vPC Expertise: Mastering concepts like MLAG (Multi-Chassis Link Aggregation) and vPC (Virtual Port Channel) enhances your ability to optimize network performance and ensure redundancy.
A Software Perspective:
Development Prowess: Proficiency in languages like Groovy and Java opens doors to crafting powerful scripts and applications.
Debugging and Troubleshooting: Being adept at debugging and troubleshooting isn't just about fixing issues – it's about untangling complexities and ensuring that software operates seamlessly.
Effective Communication:
Interpersonal Skills: Strong communication is at the heart of effective teamwork. Being able to convey complex technical concepts clearly and concisely fosters collaboration and understanding among peers.
Commitment to Excellence:
Off-Hours Dedication: The tech landscape can be demanding, and your willingness to work outside regular hours showcases your dedication to maintaining a resilient network environment.
Desired Expertise: 5-7 Years of Hands-On Experience
To stand out in this role, 5-7 years of hands-on industry experience with the technologies mentioned is highly preferred.
Experienced Leadership:
Guiding Knowledge: With this experience, you're a guiding force, capable of leading and making informed decisions.
Key Job Details
Role: Software developer (Network)
Location: Bangalore, IN
Category: Software Engineering
Employment Type: Full-Time
Travel Required: No Travel
Contract Type: Regular
Company:(0063) IBM India Private Limited
Req ID:654064BR
NLC RECRUITMENT 2023:Empower Your Future with Unprecedented Opportunities
FOR MORE JOBS: CLICK HERE
Q1 What is the role of a Software Developer at IBM?
A Software Developer (Network) at IBM plays a crucial role in designing, developing, and implementing networking solutions that drive technological advancement.
Q2 Where is the role based?
This role is based in Bangalore, India.
Q3 What are the qualifications required for Software Developer at IBM?
Strong software development skills, proficiency in networking concepts, and effective problem-solving abilities are essential qualifications for this role.
Q4 Why should I consider joining Software Developer at IBM?
IBM offers a dynamic and innovative work environment where you can be a part of groundbreaking projects and collaborate with a global community of experts.
Q5 Why are communication skills vital in Software Developer at IBM?
Effective communication is crucial for conveying technical information to diverse audiences, fostering collaboration and understanding.
Q6 How can I gain experience in these technologies?
Exploring hands-on projects, courses, and real-world applications can help you gain the experience needed to excel in these roles.
Q7 What is the main focus of a Cloud Developer at IBM?
A Cloud Developer at IBM primarily focuses on contributing to the development and support of the Cloud Pak System (CPS) product while collaborating with various teams and stakeholders.
Q8 What kind of environment can I expect as a Cloud Developer?
As a Cloud Developer, you'll be part of a dynamic team culture that is dedicated to creating exceptional development and deployment environments, fostering innovation and growth.
Q9 What is the significance of cloud technology in today's world?
Cloud technology is pivotal in modern business operations, enabling enhanced efficiency, scalability, and agility in the digital landscape.
Q10 What growth opportunities does the software developer at IBM provide?
BM offers a range of growth opportunities, including online courses and workshops, to keep employees ahead in their fields.
Q11 Can I contribute to IBM's innovative projects from day one?
Absolutely! IBM encourages all employees to contribute their ideas and skills to innovative projects from the very beginning.