The Comptroller and Auditor General of India (CAG) has recently rolled out an enticing opportunity through its CAG Recruitment 2023 campaign, inviting applications for the role of Administrative Assistant. His chance attracts job seekers who are eager to start a lucrative career journey with an astounding count of 1773 open opportunities.
Get the crucial information about CAG Recruitment 2023 by reading on.
CAG Recruitment 2023: A Gateway to Administrative Excellence
The prestigious Comptroller and Auditor General of India has unveiled a fresh Notification, signaling the commencement of the recruitment process for Administrative Assistants. A robust count of 1773 vacancies has been earmarked for this drive, creating an excellent opportunity for individuals possessing a 12th PASS  or Graduate Degree in any discipline from an accredited institution. Aspiring candidates are encouraged to submit their applications well before the deadline, which is set for September 17, 2023.
CAG Recruitment 2023: Navigating the Application Process
Prospective candidates must ensure they meet all the necessary qualifications outlined in the official CAG notification before proceeding with their application. The foundation of a successful application begins with eligibility. In light of that, let's get into more detail about this CAG Jobs article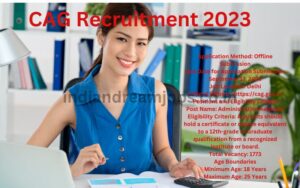 CAG Recruitment 2023: Key Details
Intrigued individuals should not only consider the intriguing career prospects that this opportunity offers but also familiarize themselves with crucial details surrounding the Comptroller and Audit General of India Recruitment 2023.
Application Method: Offline Submission
Last Date for Application Submission: September 17, 2023
Job Location: Delhi
Official Website: https://cag.gov.in
Positions and Eligibility Criteria
Post Name: Administrative Assistant
Eligibility Criteria: Aspirants should hold a certificate or degree equivalent to a 12th-grade or Graduate qualification from a recognized institute or board.
Total Vacancy: 1773
Age Boundaries
Minimum Age: 18 Years
Maximum Age: 25 Years
Remuneration
The remuneration for the CAG Administrative Assistant Posts will be disclosed in the official notification.
CAG Recruitment 2023: Application Fees
Aspirants are exempt from paying any application submission fees.
CAG Recruitment 2023: Important Dates
Application Submission Begins: August 17, 2023
Application Submission Ends: September 17, 2023
Seizing the Opportunity with CAG
The Comptroller and Auditor General of India (CAG) has officially set the stage for an invigorating recruitment campaign aimed at filling the Administrative Assistant Vacancies. This coveted opportunity is a stepping stone toward a fulfilling career path. Individuals who fulfill the requisite criteria are encouraged to grasp this chance with both hands.
Stay Informed through Trusted Sources
It is imperative for aspirants to stay well-informed through reliable sources. Avoid misinformation and confusion by relying on reputable platforms like www.indiandreamjobs.co.in or the official website of CAG: https://cag.gov.in. These platforms provide accurate and up-to-date information related to Free Job Alerts and Sarkari Results.
Applying for CAG Vacancy 2023
If you're determined to secure a coveted position through CAG Recruitment 2023, ensure you follow the correct procedure. All the necessary details regarding the application process, including the address for submission, can be found below:
Send Your Application To:
Shri Nilesh Patil, Asstt. C&AG (N)-I,
O/o the C&AG of India,
9, Deen Dayal Upadhyay Marg,
New Delhi, 110124
Access Official Notifications
Prospective applicants are strongly advised to meticulously read the official notification before initiating their application process. This document holds crucial information that will aid candidates in preparing a comprehensive application.
FAQS